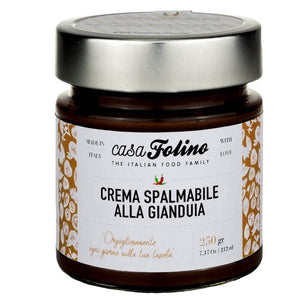 Calabrian Hazelnut Chocolate Cream Spread
This velvety and creamy artisan chocolate cream has the intense taste and the characteristic aroma of foraged hazelnut. A spreadable cream par excellence, this gianduia (a traditional European hazelnut chocolate cream) is perfect on bread and toast, as a dip for fruit, or to fill any type of dessert. Excellent for breakfast!
7.2 oz NET WT

Handmade in small batches in Calabria, Italy.
---
INGREDIENTS: Sugar, sunflower and palm oils, Hazelnuts (15%), fat cocoa powder, whey powder, milk proteins, skimmed milk powder, skimmed cocoa powder, soy lecithin, salt, natural flavor

---