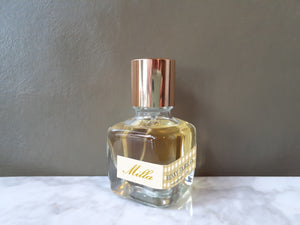 MILLA Foraged Fragrance™ Eau de Parfum Spray (1 oz) | Limited Edition
MILLA Foraged Fragrance™ Eau de Parfum Spray (1 oz) | Limited Edition

Scent Profile: Piña chamomilla - pineapple, toasted coconut, chamomile

Featured wild ingredient: Yarrow. Wildharvested in Northeastern Pennsylvania.

Notes (from opening to finish): Lemon, galbanum, pineapple, Roman chamomile, toasted coconut (with basmati rice tincture), coconut milk, green cognac, linden blossom C02, honey (with beeswax absolute), blonde patchouli, sandalwood

Spray on self or in surroundings. FOR EXTERNAL USE ONLY. 

---
☛ INGREDIENTS
Natural grain spirits (denat.), fragrance (plant extracts and aromatics), water, glycerine
---
◈ PRECAUTION
Some fragrant compounds can cause skin irritation in a small subset of individuals. In general, natural fragrant ingredients are more likely to have a sensitizing effect. ALWAYS PERFORM A PATCH TEST.
If irritation occurs, rinse with warm, soapy water and discontinue use on skin. Those with skin sensitivities can often still enjoy perfume by spraying it on clothing or fabric, rather than directly on the skin.
---
✉ SHIPPING
All sizes larger than 2 ml must ship via ground transportation and are thus ineligible for expedited shipping methods.
---